MyPMS makes it easy to customize your Letters with our fully integrated Custom Merge Fields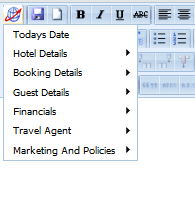 We have added new merge fields to our Custom Letters!  Add more Guest and Booking data to your Confirmations, Thank you Letters, and Registration Cards with new merge fields in Booking Details, Financials and Group Bookings. The new fields are already available and ready for immediate use under the "globe" icon in the custom text editor.
See a list and description of all custom data merge fields for Individual and Group Letters:
Custom Merge Fields – Individual Letters
Custom Merge Fields – Group Letters
To learn more about Letters, see MyPMS Letters: Top Help Articles
---
Have you tried the new Auto Letters Function?
Use the Auto Letter function to send automated "pre" and "post" emails to your guests based on date driven events such as, check-in or check-out date. Auto Letters can be created for Group Bookings, Individual Bookings or Guest records. The Auto Letters function is located in SETUP | PARAMETERS | AUTO LETTERS.