Full-featured 30 Day FREE Trial and Instant Demo
Experience the power of a BookingCenter Property Management System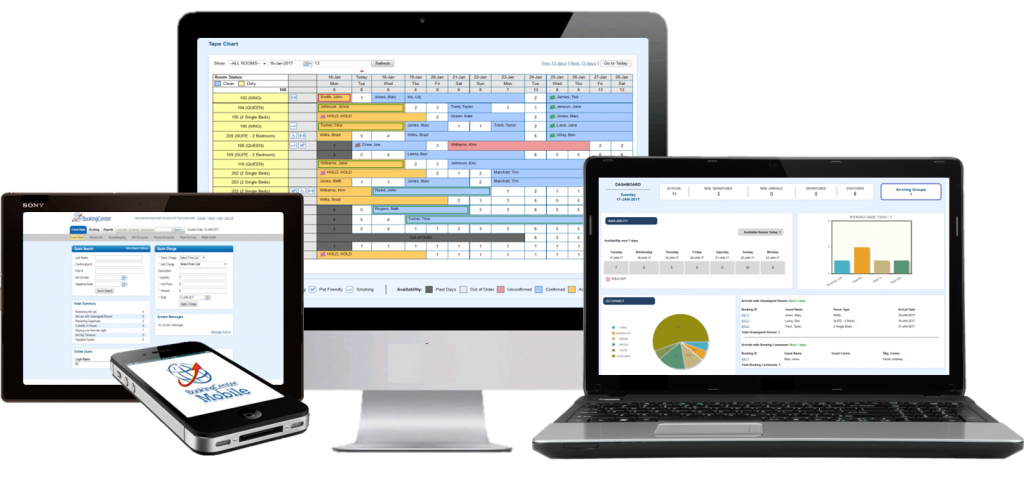 All-in-one Hotel Reservation Software – Manage Bookings, Guests, Rooms, Rates and More. Simplify your day-to-day operations with easy front desk tools, full back office reporting, guest tracking and automated customized confirmations.
Get Unlimited Rooms. No Term Contracts. Learn all about our Money Back Guarantee. 
No downloads. No software installs. No credit card required.
Have questions? Contact us
Try a FREE Demo of any of our Property Management Systems
Demo our most popular Add-on Modules
Website Booking Engine
Our booking engine supports 7 languages, credit card deposits, Fixed and Dynamic Packages, tax inclusive (VAT, GST, etc) and exclusive rates, sales of Items such as tours, robes, wine, etc. Highly customizeable, with full Google Analytics tracking integration, delivered as an XML Web Service or used with our HTML API to allow webmasters even greater control. Examples below:
Demo Using Availability Calendars:Demo Using Availability Calendars:
Packaging Booking Engine – Demo Now!
OTA and GDS Distribution

Increased visibility = increased sales. No other source gives such exposure to consumers and travel pros : All 4 GDS' (Galileo/TravelPort, Sabre, Amadeus, and Apollo/WorldSpan), Pegasus, Genares, SiteMinder's RDX, Booking.com, Expedia, HotelGoGo, Web Reservations and other smaller networks combining over 1,00,000 travel sites in one relationship. One support call, one monthly bill…and no term contract.
Remote Management
BookingCenter frees you from the front desk! From anywhere you can monitor all your bookings, communicate with guests, get full booking and commission reports, make/cancel bookings, and much more.