customized and completely integrated self-service solution
Transform from yesterday's focus on the 'Front Desk' to tomorrow's self- or personal- service approach to property management.
Recent events have forced many hospitality providers to completely change their approach to guest service. BookingCenter gives you the tools to transition into the new reality with a customized and completely integrated self-service solution. Automate everyday tasks like check-in, payments, signing registration, and sending receipts while instantly connecting the guest to highly personalized service – all at the same time, with full PMS integration.
Self Check-in. Automated from start to finish.
Guests login via their mobile device or your Kiosk to book, pay, update booking details, payment methods, eSign documents and check-in.
Imagine a paperless, touchless Front Desk
On day of arrival, the guest receives a text message to start Self Check-in. After digitally signing the registration and updating their payment details, the guest checks-in, their card is authorized (or payment processed), then receives room entry instructions – from their mobile device and/or your Kiosk. Skipping the Front Desk, they head directly to the room, unlocking it with a key/code/mobile key. An SMS notification offers a discount on a spa service, and the guest immediately books a massage before making dinner reservations on your MyGuest Concierge System.
Greet Guests in person, performing check-in on the way to their room or offer self service check-in via your Guest's mobile phone and/or a Kiosk. Rest assured signatures on registration cards, 'swipe, dip, or tap' of the Guest's credit card, and acceptance of policies are strictly enforced. And empower your guests to purchase services from your property and local area via your online Concierge system.
Whether the Guest booked via a 'Rate Suppressed' pre-paid channel (like Expedia or Booking.com), or direct, the correct Confirmation and Registration Letters are delivered, to support variations such as Pet friendly rooms requiring a separate signature; 'suppressing rate' info for third party bookings with 'virtual cards'; or your vacation rental that requires a unique signed agreement for party size, etc. We have you automated!
Incorporate eSign – Digital Document Signing if you require a signed Registration, contract. Add SMS for immediate text messaging to Guests (subscription required).
All these options are easy – and inexpensive – with BookingCenter's Property Management System. Take a read below and learn how your operations can transform from yesterday's focus on the 'Front Desk' to tomorrow's self- or personal- service approach to property management.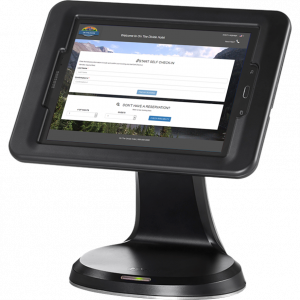 Take Payments from anywhere with EMV
EMV captures 'swipes', 'dips', and 'taps' without cords.  Be free and wireless.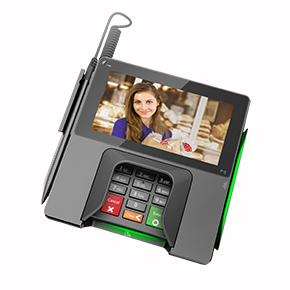 Supporting ApplePay, Samsung and Google Payments, chip card 'dips', swipes, and manual entries (when needed), payment can be added anywhere. MyCard© is BookingCenter's PCI Compliant credit card payment gateway tightly integrated with MyPMS.
It is easy to use and eliminates the need for separate POS, additional phone lines, monthly and transaction fees and time intensive auditing of settlement reports.
Connect your existing Merchant Account (or, we'll help you get a new one that saves you money) to enable 'dip', 'tap', and 'swipe' for credit cards. Use with a Booking, Group Booking, House Account, Direct Bill payment, or online deposits from your Booking Engine.
MyCard uses the latest POS hardware – EMV, ApplePay, NFC devices (GooglePay, Samsung Pay, etc), mobile, 'dip', 'tap', and 'swipe' Hardware.
Send, Sign and Store Digital Documents
eSign captures guest signatures and stores documents forever
Have guests sign your registration card (or any contract) on their mobile device or your tablet, always stored with the booking, and emailed to the guest for their records. Whether guests sign on their own device (smart phone, tablet, or personal computer) or with you, the signed docs are securely stored with the booking, forever.
Manage from anywhere. Get immediate updates and notifications
With the BookingCenter MyGuest mobile app, get immediate alerts and notifications when guests check-in, digitally sign a document, update their payment details, cancel their booking, needs assistance, submits a request, or an other event you wish to make part of your Concierge service.
Our iOS and Android app delivers to your staff immediate alerts via 'push' notifications, allowing them to monitor requests in real-time from anywhere via their phone, tablet, or computer. 
Learn more about MyGuest Mobile Concierge and Request System