BookingCenter-BookingSuite Interface
Two-way integration gives you automatic booking import and synchronized rate and availability updates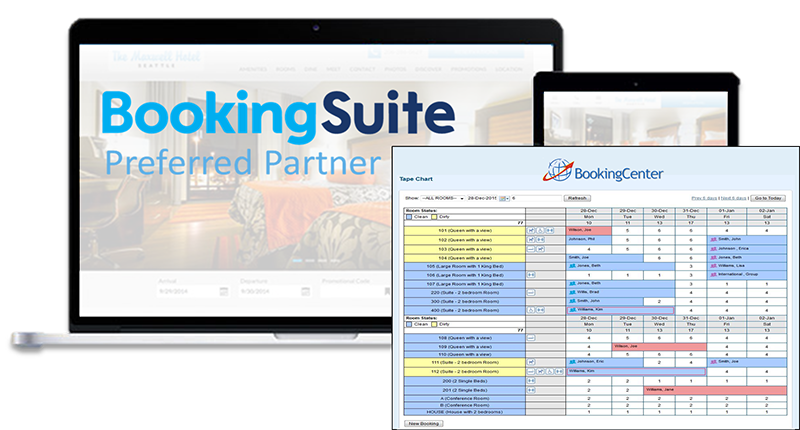 Website Booking Engine
Connect your BookingSuite website to a BookingCenter PMS and drive more direct reservations with an integrated booking engine.
Automated Rate Management
Get seamless Integration between RateManager and BookingCenter PMS data with Rate Intelligence/Rate Manager Tools.
It all happens automatically!
Get a full-featured 30 Day FREE Trial of MyPMS
No downloads. No software installs. No credit card required.
Create a digital marketing system for hotels

BookingCenter helps you make money and cut costs by tying your front and back office (PMS) operations into a seamless, 24 x 7 global reservation system while BookingSuite promotes and analyzes the performance of your "digital brand".  Go digital with a BookingSuite property website and drive more direct reservations through the integrated booking engine.It all happens automatically!
Manage global channel updates – in real time!
BookingCenter's integrated GDS and channel management capabilities offers access to over 600,000 travel agents such as, Expedia, Travelocity, Orbitz, Booking.com, Priceline, and thousands of other travel systems (mobile devices, Facebook, car navigation, etc). And not just rates and availability, but even images, policies, amenities, etc.
This allows you to sell through your BookingSuite website and the major OTAs with no commission fees – either a per transaction or a small monthly fee for unlimited bookings through major OTA channel (GDS system still require a commission). No one offers the value that BookingCenter does.
It all happens automatically!
Our 'cloud based' and Mac/PC Desktop Property Management Systems connect seamlessly to BookingSuite for real-time and secure online bookings, letting hoteliers/innkeepers focus on actionable improvements to their business. And,  leave the software, backup, and tech support to us!
In a nutshell, BookingCenter and BookingSuite help you perform the perfect marketing strategy: work efficiently from your front desk using a 'cloud' Property Management System, manage seamlessly your online bookings and web traffic, and accept new bookings from global sources, all with the goal of bringing guests direct to you through no cost or low cost channels – enabling a 'repeat guest' strategy all properties work to achieve.
BookingSuite/Booking.com Rate Manager and Rate Intelligence
BookingCenter has been partnering with
Rate Manager
, a subsidiary of Priceline / Booking.com to provide awesome technology.  Our partnership provides BookingCenter clients with seamless access to RateManager's array of products that are cost-effective and 'built into' BookingCenter.
Integration between the Booking.com  
RateManager
 and BookingCenter PMS data enables Booking.com's 'big data' analysis of supply and demand trends in your market like a "comp set" of competitive hotels, travel trends, etc. The  
RateManager
  uses this analysis to automatically update rates in your PMS.
Rate Intelligence/Rate Manager Tools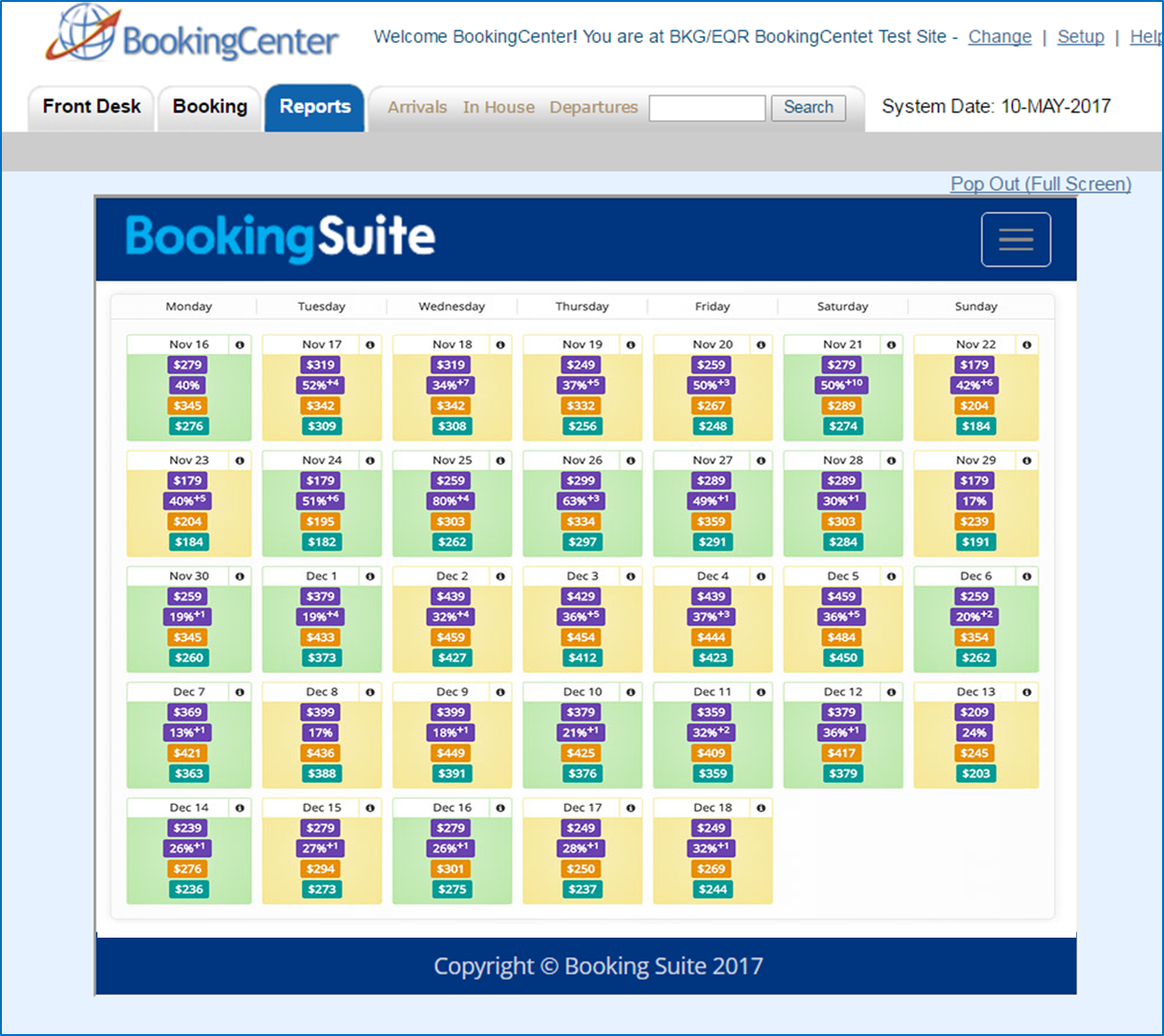 Let us help you choose the right Interfaces and Modules for your system. Contact us today!
Get a full-featured 30 Day FREE Trial of MyPMS
No downloads. No software installs. No credit card required.