Innovative online booking solutions for properties that increase revenue, reduce cost, and increase bookings
Website Booking Engine and HTML/XML/API Services
Integrate real-time Internet bookings seamlessly into your PMS for a complete, automated Property Management Solution.
Drive guests to your website and increase direct bookings.
Your website is your main booking system.  We make it 'Look and Feel' your way
Full-featured, mobile-friendly Booking Engine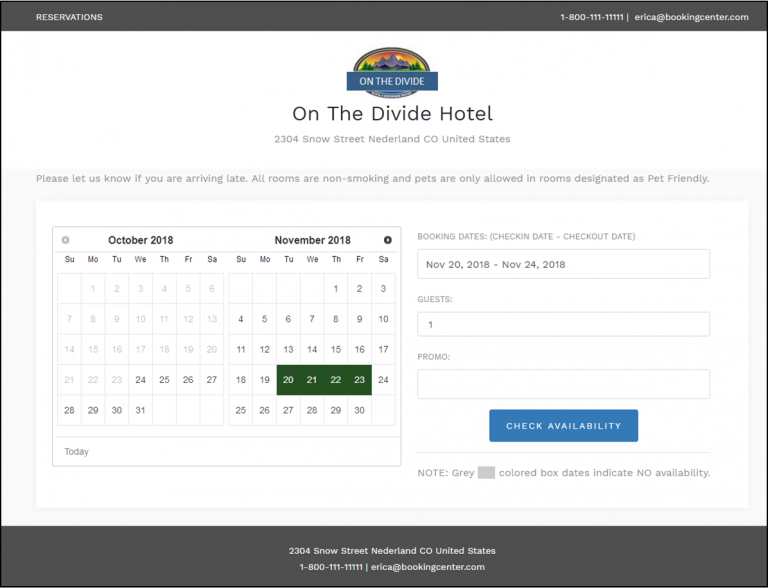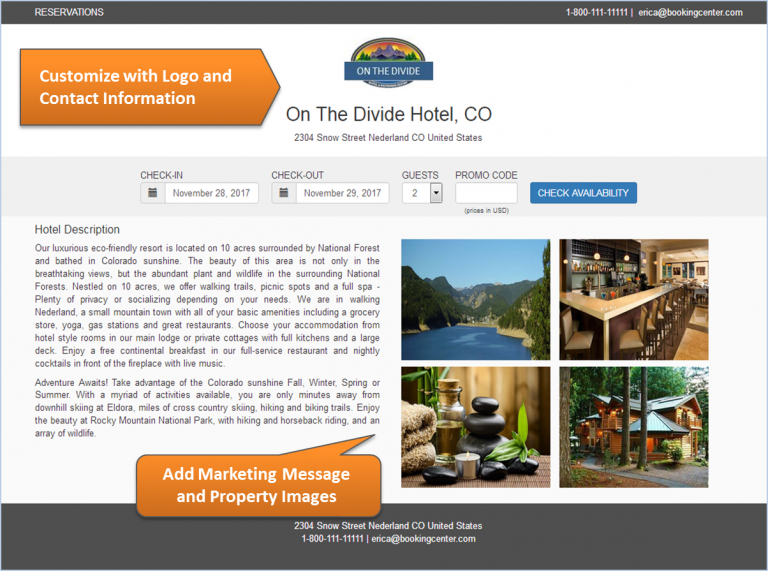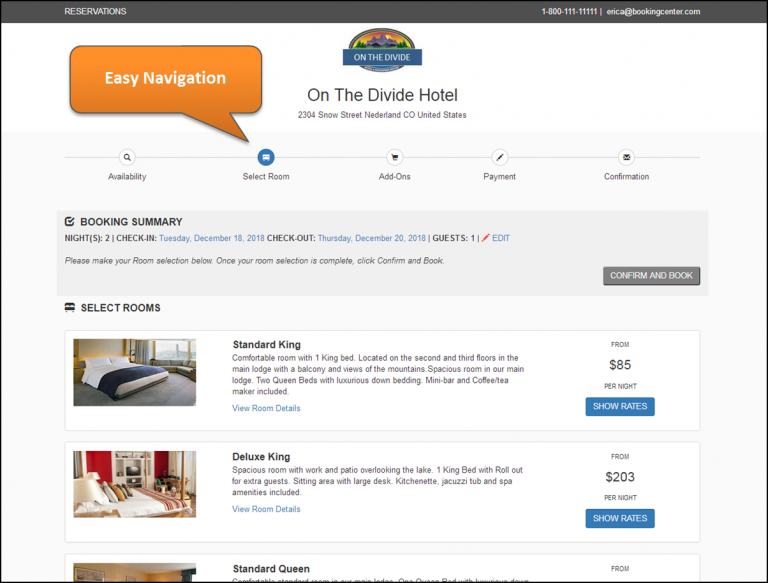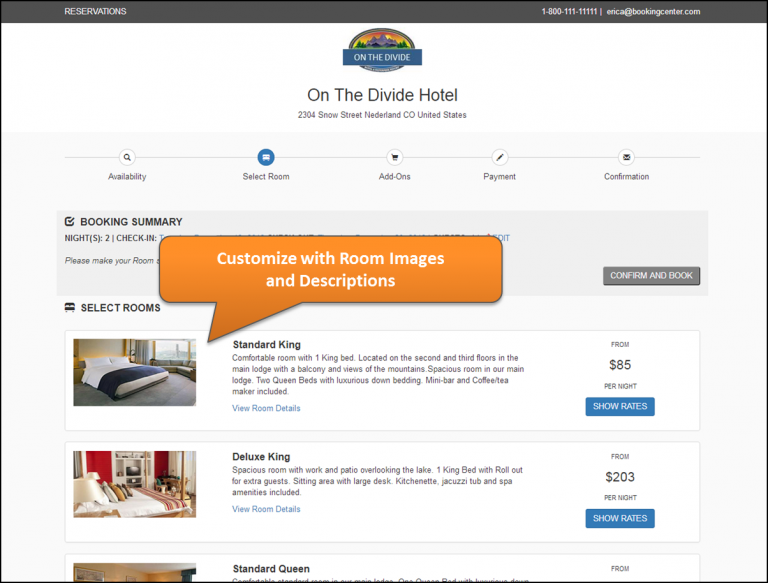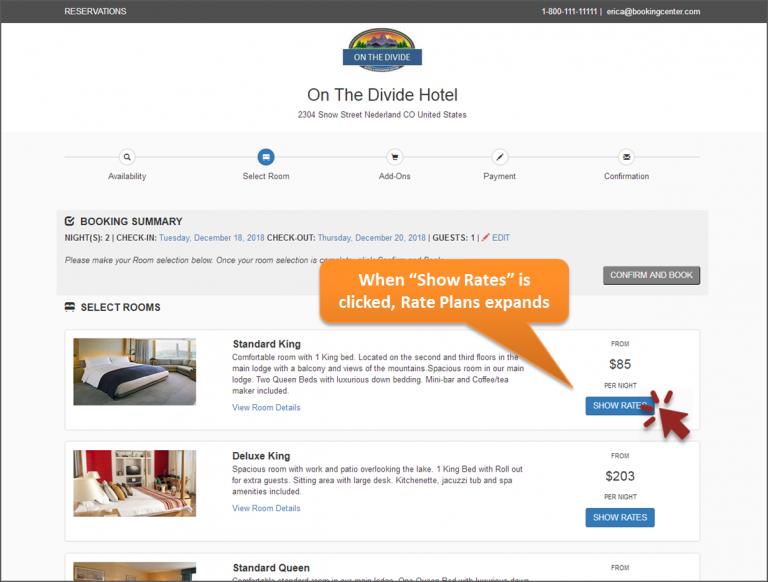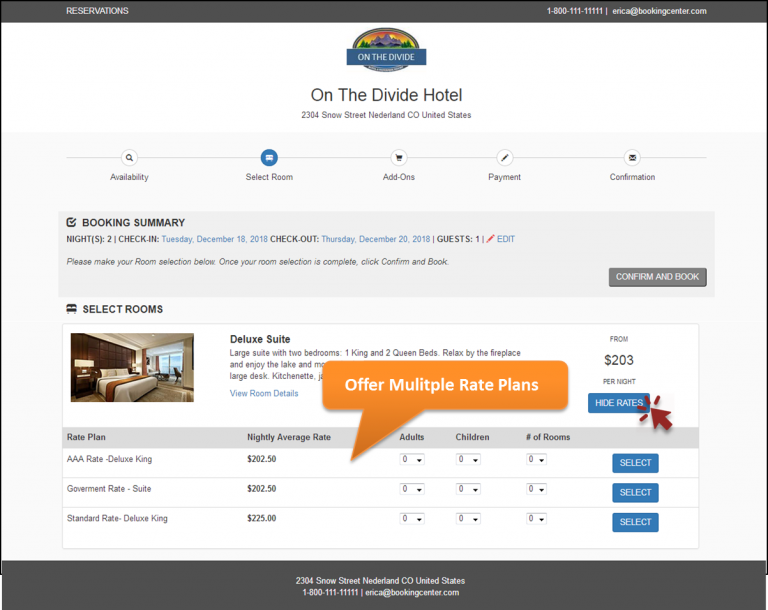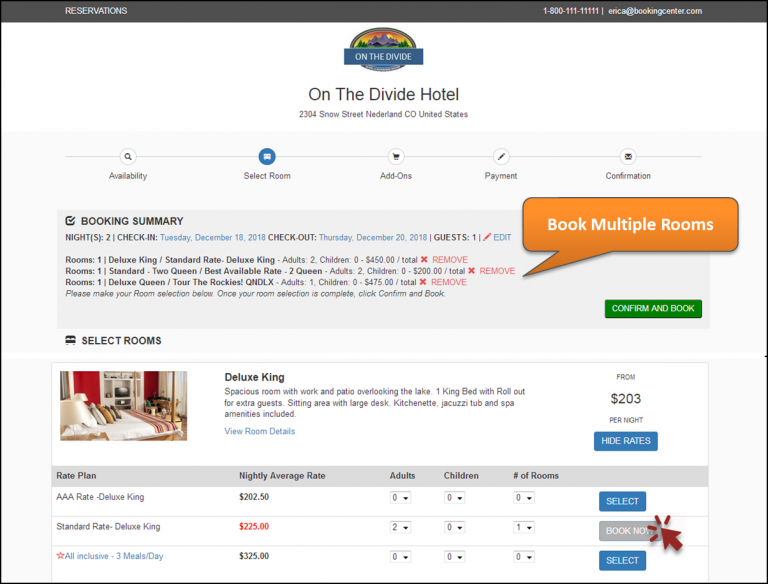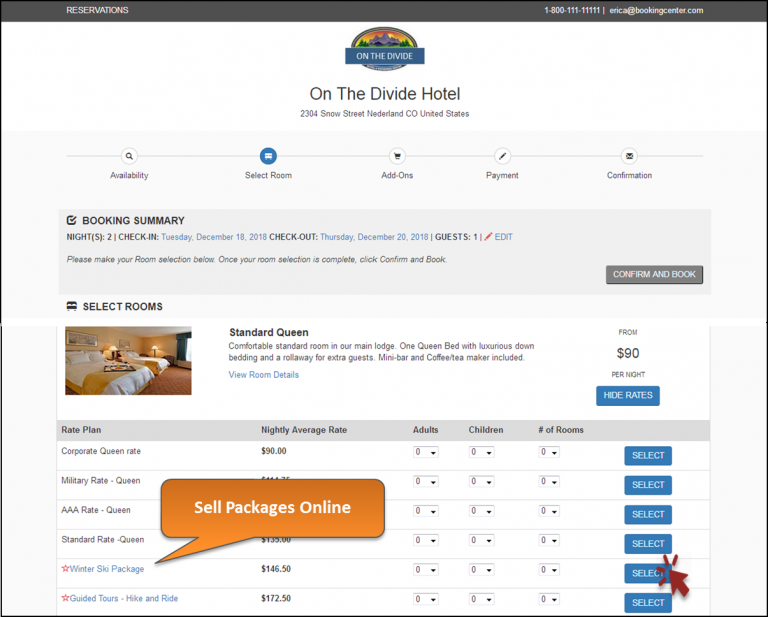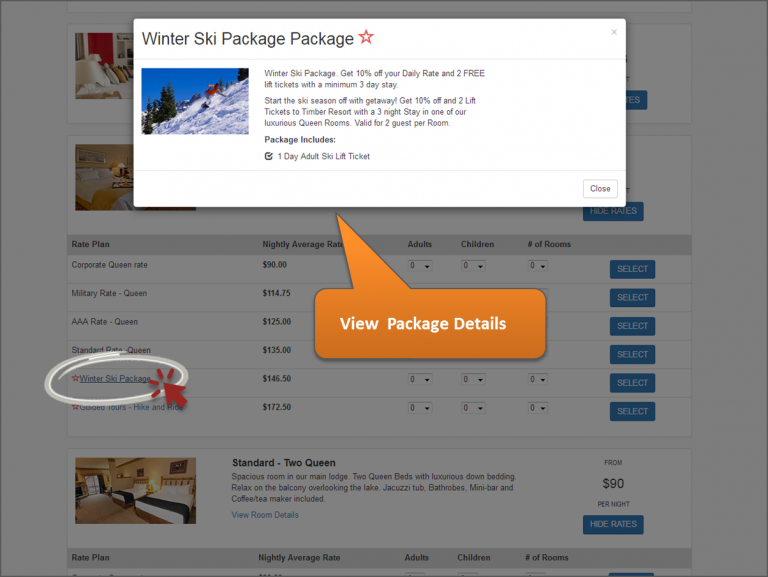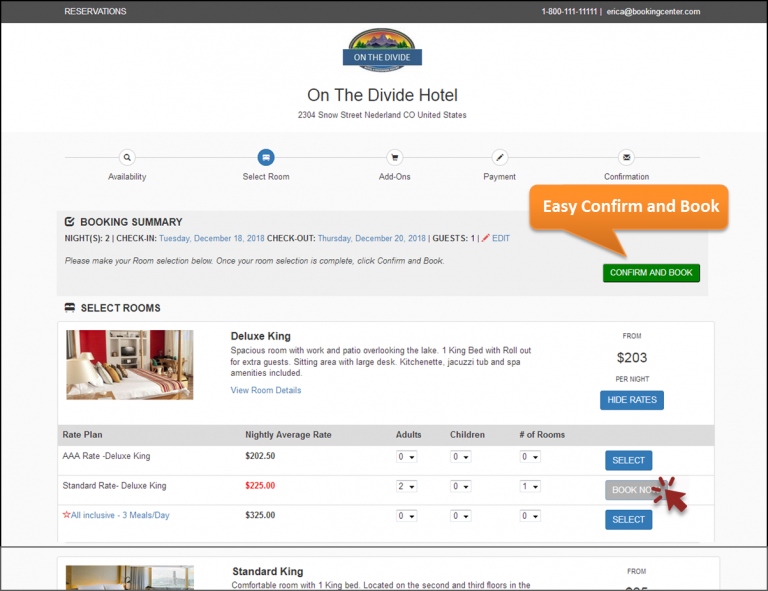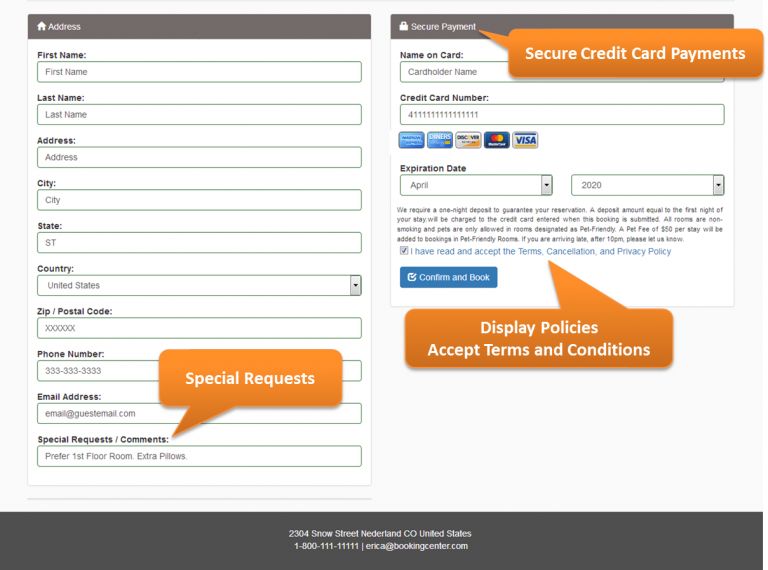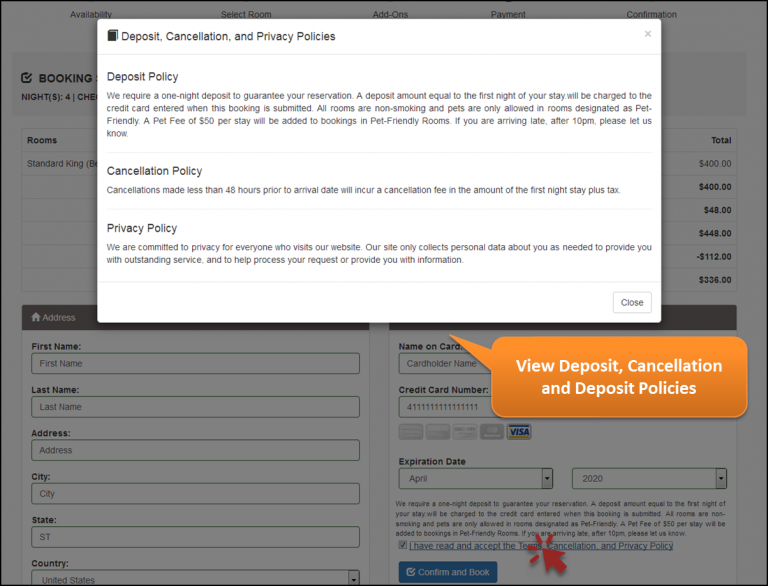 Whether you use our Template Booking Engine, our HTML API, or our XML Web Services API to 100% customize your Booking Engine experience, BookingCenter has your solution. Automatic Booking Import with synchronized rates and availability.
Our full-featured, mobile-friendly Booking Engine makes it easy to take online bookings from your website with ready-to-use templates and the ability to manage rooms, rates, extras, packages directly in your BookingCenter PMS with synchronized updates and automatic booking import.
Powerful functionality makes it easy for guests to book multiple rooms, purchase add-ons, make special requests and choose discounted rates from any computer or mobile device.
It is easy and fast to customize your Booking Engine to reflect your 'style'.with our Booking Engine Templates. Fit to your "look and feel" with  an Image Slide Show, Descriptions, Amenities and Policies.
Innovative online booking solutions for properties that increase revenue, reduce cost, and increase bookings
MyBooking and Self Check-in
Let guests manage booking details and check-in on any mobile device.
Pre-Arrival Booking Management: Modify, Cancel and Self Check-in. Our web service MyBookings allows MyPMS users to send confirmation or pre-arrival notices enabling guests to authenticate their booking and then edit their details, cancel their booking, or even self check-in.   Contact us to get a quote for this 'self-concierge' service.
Hotel/Resort/B&B/Inns
Integrate real-time Internet bookings seamlessly into your PMS for a complete, automated Property Management Solution.
Call Centers or Wholesale Travel Agents
Allocate rates and availability to each Agent that visits your website or you work via the GDS systems. Our 'Wholesale Booking Agent' provides for the agent making a booking on behalf of a traveler – perfect for Visitors Centers, kiosks, or booking agencies. More info here
Booking Engine Customization Options
Turning your website, FaceBook page, or blog into an 'always on' sales channel integrated with our Desktop PMS, MyPMS or Channel Manager products. Among the customization options are:
BookingCenter XML Web Services API (Application Programming Interface)
Want to 'paint the screen' of your Booking Engine web pages as you wish?  Then use our OTA XML API (a standard XML schema built on the Open Travel Alliance) that allows you to create your own unique 'wrapper' ( or 'web service') making a Booking Engine entirely custom for your website.  Either your web developer can build it, or we will do so according to your design guidance.
BookingCenter HTML API (Application Programming Interface)
Use BookingCenter's Booking Engine HTML API (Application Programming Interface) to query the Central Reservation Service using common HTML techniques such as FORM POST and GET commands to show customized 'web services' such as, a photo album of your property, a New Year's Package, or rooms that can each hold 6 guests, etc.  Using the 'HTML API' is less complex than the XML web services, and any webmaster proficient in HTML design and coding techniques can use this spec. 
Website Interface Partners
These systems all use a certified OTA 2-way interface and can integrate our MyCard system for processing PCI-compiant deposits (if desired).
BookingCenter helps you make money and cut costs by integrating your website with a BookingCenter PMS, turning your operations into a seamless, 24 x 7 global reservation system. 
We offer seamless interfaces between our PMS systems and your 'website platform' company. . 
Connect our Booking Engine to your third-party website  and drive more direct reservations with an integrated booking system.
ODYSYS (partner since 2015) an innovative company based in Oregon, USA.
---
EasyInnkeeping (partner since 2014) serves the Bed and Breakfast Industry with simple and affordable website(s)
---
GuestCentric (partner since 2018) serves the hospitality Industry with innovative website(s) and marketing tools
Easy availability maintenance – Get synchronized updates to all connections and channels.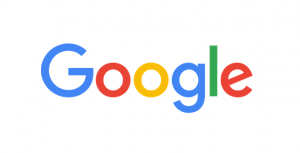 Integration with Google Analytics includes 'Google Conversion" and 'Campaign Return on Investment'.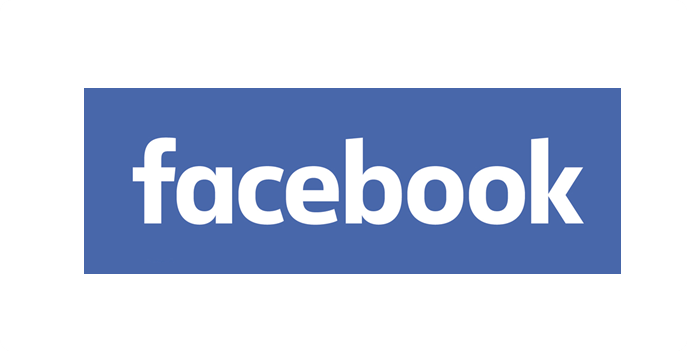 Create a Facebook engine. See an example of our Facebook Booking Engine - feel free to make a booking..