Property Management System | Booking Engine| Channel Manager | GDS/OTA Direct Connections | Yield Management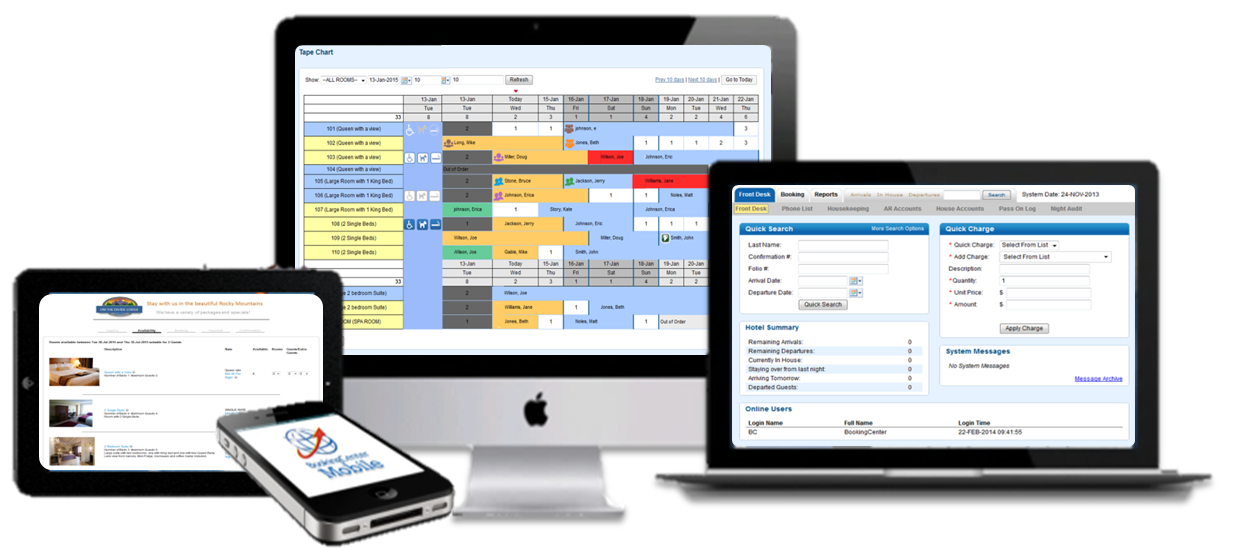 We have a property management solution that is right for you.
BookingCenter offers a powerful and an affordable property management solution for the independent property owner. Our system is designed to grow with your business by offering the flexibility to extend your system with additional services, interfaces and modules as you need them.
Start with a full featured PMS with unlimited rooms for one, flat, low monthly fee. Then, add optional services like, credit card payment processing,  yield management, guest services, POS and OTA connections. See all Interfaces and Modules.
Getting started is easy with self setup and full setup options available.
Learn our system quickly with our selection of Support options: Online Manuals, Videos and Knowledge Base resources.
Contact us today to learn more.
Start with a Property Management System (PMS)
Choose from cloud-based, desktop property management systems and channel manager options. Get unlimited rooms for one flat, low monthly fee.
No contracts or commitments. Setup, training and 24/7 Support included. See our Money back Guarantee
Instant Access. Simple Setup. Fully Customized.
A sleek cloud-based PMS ideal for any size property. Manage your property on-site or remotely, simply, easily and securely, with anytime-anywhere mobile access.
MyPMS simplifies your day-to-day operations while giving you the flexibility to expand into new online markets with seamless integration of rates and availability with all of your online channels. Our pricing and allocation tools, give you complete control over availability and rates.
Customize MyPMS to fit your needs with our optional Interfaces and Modules.
Runs on all popular web browsers

No downloads. No software installs. No credit card required.
Need a MAC or PC desktop solution?

Comprehensive and flexible Multi-user desktop system provides easy property management and can be used as a 'Backup' for MyPMS. Runs on any PC or Mac.
This professional multi-user system has provided easy management of a property for desktop PCs and Macintosh since 1993. With Version 7 for Mac OS X 10.10 (Yosemite) and Windows 8, the Desktop is still the preferred tool for many properties.
It is easy-to-use and allows modules to be added that make management of your business right for you. Runs on any PC or Macintosh (even Windows 2000 and Mac OS 'Classic').

Looking for a distribution system to manage online channels?
The Channel Manager combines a powerful, multi-lingual booking engine (demo here) with an easy-to-use management interface for managing rates, content, and availability to website(s) and OTA/GDS channels from any computer, phone, tablet, or internet device.
Truly international, with taxes inclusive or exclusive in rates, dynamic and fixed packages, GST/VAT/all tax situations, and an OTA XML programmer's interface to allow your webmaser to make your Booking Engine look and feel like whatever you wish.
BookingCenter's Channel Manager gives you access to market to the GDS, Pegasus, Booking.com, Expedia, Travelocity, Orbitz, Consortia, and hundreds more networks. Global Distribution System (GDS) and OTA Programs
Runs on all popular web browsers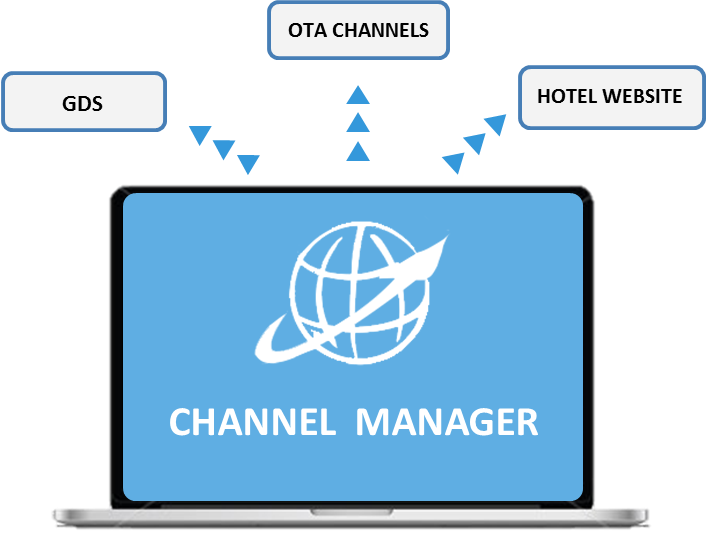 Extend the power of your Property Management System
Add Additional System Configurations
A unique "hybrid" solution. The Hybrid PMS combines an integrated Desktop PMS (for Mac or Windows) back-up system to our 'cloud' MyPMS. This "hybrid" solution is perfect for properties needing a backup due to unreliable internet.


Local Distribution System (LDS)

Enterprise and Management Company Solution. Mix & match with other BookingCenter PMS Products into a Group solution we call the Local Distribution System. Learn More
Add Interfaces and Modules – Credit Card Processing, Yield management, POS and more
We keep our PMS products affordable with a full featured PMS and the option to add functions that meet your property needs.  Choose from any of our Interfaces and Add-on modules to customize your system to fit your property.  See Interfaces and Modules
Sell Online.  GDS, OTA Direct Connections, Negotiated Rates and Meta Search

Offer unique rates and availability to multiple online channels with our Channel Manager and seamless connection to Global Distribution System (GDS) and Online Travel Agents (OTA). Our easy-to-use allocation and pricing tools give you complete control and flexibility. Connect directly to Expedia and Booking.com,  TripAdvisor and more. See all of our  GDS Distribution and OTA Direct Connections
Getting started is easy! Let us help you choose the right system for you.