The "Hybrid" PMS – Cloud based access with Desktop backup
Only BookingCenter offers you this much capability and flexibility with a fully integrated back-up system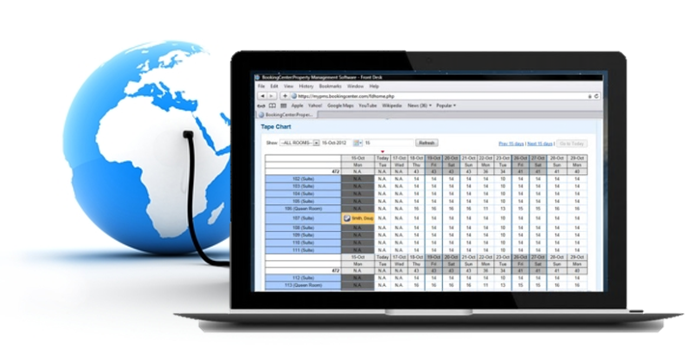 A unique "hybrid" solution. The Hybrid PMS combines an integrated Desktop PMS (for Mac or Windows) back-up system to our 'cloud- based' MyPMS.
This "hybrid" solution is perfect for properties needing backup due to un-reliable internet.
With the Hybrid PMS, you use MyPMS ('cloud') solution for your day-to-day needs, and a custom Desktop back-up system for use during internet outages.
We call this 'The Best of Both Worlds" and it combines the best of both software architectures – 'cloud' and client software.
 Instant Access. Simple Setup. Fully Customized.
No downloads. No software installs. No credit card required.
Enjoy the "best of both worlds" with seamless integration between MyPMS ('Cloud-based') and Desktop PMS systems
The Hybrid PMS is a ready-to-go onsite system – for Mac or Windows – that can be used for check-ins, check-outs, registration, confirmations, cancellations, charges, and payments during outages.
Property managers enjoy peace of mind for as little as $500 (one-time fee) and $30/month. BookingCenter technicians customize a Desktop PMS system especially for you, synced to the MyPMS system. Then, if you lose internet connectivity, you will have a Desktop system to keep serving guests.
Once your internet connection comes back up, all 'online' bookings and payments are automatically synced.  'Offline' bookings and bookkeeping will need to be reconciled (read about how this is done here), but you'll never revert to pencil and paper again – and your guests's won't notice any down time.
Desktop Backup for MyPMS is a local copy of the Desktop Pro installed on a Macintosh or Windows PC at the hotel (or off-site office). The purpose of this system is to act as a "back-up system" for when the internet is temporarily inaccessible.
This "Hybrid PMS" system is not a "magic sync" tool. Desktop Backup for MyPMS is a great tool, but it is designed for a specific purpose. It will help you avoid disruptions for your guests and record data easily.  Transactions that your staff enters into the Desktop PMS during the time that the internet connection is unavailable will need to be re-entered into your MyPMS system once your internet connection is re-established. However, any data booked, modified, or cancelled through your Booking Engine or any GDS/OTA will seamlessly integrate to your MyPMS system, avoiding any re-entry.
How does the Hybrid PMS work?
To get started with the Hybrid PMS system, you must first be set up with the MyPMS 'cloud' system. Details for BookingCenter helping you to do this are found here. If you do not currently have MyPMS, click here.
Once set up, a local copy of the Desktop PMS is installed on your Macintosh or Windows PC which acts as a "back-up system" when internet connectivity is lost during business hours.
Then, just continue to use your Desktop PMS system as you normally would for bookings during the outage.
After the Internet has been re-stored, follow the simple steps detailed here to add the data back to MyPMS.  All data data booked, modified, or cancelled through your Booking Engine or GDS/OTA will  seamlessly integrate to MyPMS, avoiding re-entry.
For a more technical analysis, read the Terms and Conditions for the Hybrid PMS or ask us to explain it for you.